HEADLINES TODAY
Canada Canola Crush at 633K Tons in August: StatsCan
Canola processing declined 4.4% in August from a year ago, according to Statistics Canada data released Monday on agency's website.
Oil production totaled 262k tons, and meal output at 383k tons
NOTE: The new marketing year begins in August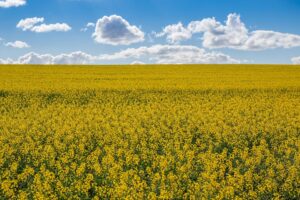 FUTURES & WEATHER
Wheat prices overnight are up 9 1/4 in SRW, up 8 1/2 in HRW, up 8 in HRS; Corn is up 2 1/2; Soybeans up 10; Soymeal up $0.14; Soyoil up 0.38.
For the week so far wheat prices are down 10 3/4 in SRW, down 9 1/2 in HRW, down 6 3/4 in HRS; Corn is down 7 3/4; Soybeans down 2; Soymeal down $0.38; Soyoil down 0.54.
For the month to date wheat prices are up 35 3/4 in SRW, up 25 1/2 in HRW, up 9 3/4 in HRS; Corn is down 1 3/4; Soybeans down 1 1/4; Soymeal up $3.80; Soyoil down 4.64.
Year-To-Date nearby futures are up 13% in SRW, up 17% in HRW, down -4% in HRS; Corn is up 13%; Soybeans up 7%; Soymeal up 5%; Soyoil up 19%.
Chinese Ag futures (JAN 23) Soybeans up 6 yuan; Soymeal up 14; Soyoil down 58; Palm oil down 188; Corn down 23 — Malaysian palm oil prices overnight were down 9 ringgit (-0.25%) at 3532.
There were no changes in registrations. Registration total: 3,084 SRW Wheat contracts; 0 Oats; 0 Corn; 5 Soybeans; 48 Soyoil; 147 Soymeal; 40 HRW Wheat.
Preliminary changes in futures Open Interest as of September 26 were: SRW Wheat down 2,613 contracts, HRW Wheat down 1,202, Corn up 5,084, Soybeans up 13,688, Soymeal down 5,599, Soyoil down 1,667.
Northern Plains Forecast: Mostly dry through Thursday. Scattered showers Friday. Temperatures near to above normal Tuesday, above to well above normal Wednesday-Friday. Outlook: Isolated to scattered showers Saturday-Monday. Mostly dry Tuesday-Wednesday. Temperatures above normal Saturday-Wednesday.
Central/Southern Plains Forecast: Mostly dry through Thursday. Isolated showers northwest Friday. Temperatures near to above normal through Friday. Outlook: Isolated showers Saturday-Monday. Mostly dry Tuesday-Wednesday. Temperatures near to above normal Saturday-Wednesday.
Western Midwest Forecast: Mostly dry through Friday. Temperatures near to below normal through Thursday, near to above normal Friday.
Eastern Midwest Forecast: Isolated to scattered showers Tuesday. Mostly dry Wednesday-Friday. Temperatures near to below normal through Friday. Outlook: Isolated showers Saturday-Wednesday. Temperatures near to above normal Saturday-Wednesday.
The player sheet for Sept. 26 had funds: net sellers of 9,000 contracts of SRW wheat, sellers of 8,000 corn, sellers of 6,000 soybeans, sellers of 3,500 soymeal, and  sellers of 3,500 soyoil.
TENDERS
CORN PURCHASE: South Korea's Feed Leaders Committee (FLC) purchased about 68,000 tonnes of animal feed corn expected to be sourced from South America in a private deal without an international tender being issued
CORN TENDER: South Korea's Major Feedmill Group (MFG) has issued an international tender to purchase up to 140,000 tonnes of animal feed corn
MILLING WHEAT TENDER: The Taiwan Flour Millers' Association has issued an international tender to purchase 51,800 tonnes of grade 1 milling wheat to be sourced from the United States
WHEAT TENDER UPDATE: Pakistan's tender to buy 300,000 tonnes of wheat closed on Monday with the lowest offer believed to be $398.92 a tonne c&f, European traders said in initial assessments. Only one trading house, Agrocorp, was believed to have submitted offers. The state agency Trading Corporation of Pakistan (TCP) is still considering the offers and no purchase has been reported
CORN SALE: South Korean animal feed maker Nonghyup Feed Inc (NOFI) has bought an estimated 135,000 tonnes of animal feed corn in an international tender that closed on Monday
WHEAT TENDER: The World Food Programme, a United Nations agency, has issued an international tender to purchase about 100,000 tonnes of milling wheat
PENDING TENDERS
WHEAT TENDER: Jordan's trade ministry is seeking 120,000 tonnes of wheat shipped in March and April in an international tender closing Sept. 27, a government source said. Jordan's state grains buyer opened the new tender after making no purchase in a Tuesday tender.
BARLEY TENDER: Jordan's state grain buyer is seeking 120,000 tonnes of barley for shipment in March and April in an international tender closing Sep. 28, a government source said.
US Inspected 459k Tons of Corn for Export, 258k of Soybean
In week ending Sept. 22, according to the USDA's weekly inspections report.
Soybeans: 258k tons vs 520k the previous wk, 486k a yr ago
Wheat: 520k tons vs 837k the previous wk, 384k a yr ago
Corn: 459k tons vs 549k the previous wk, 705k a yr ago
US Corn, Soybean, Wheat Inspections by Country: Sept. 22
Following is a summary of USDA inspections for week ending Sept. 22 of corn, soybeans and wheat for export, from the Grain Inspection, Packers and Stockyards Administration, known as GIPSA.
Soybeans for Japan-bound shipments made up 80k tons of the 258k total inspected
Mexico was the top destination for corn inspections, China led in wheat
CROP SURVEY: US Sept. 1 Grain Stocks and Wheat Production
US corn stocks seen at 1.5b bu as of Sept. 1, an increase of 21% compared to the same period last year, according to the avg est. of as many as 27 analysts surveyed by Bloomberg.
Soybean stocks seen at 243m bu, down 5% from Sept. 2021
Wheat stocks seen at 1.79b bu, 20m bu above last year's amount
2022 wheat production seen at 1.78b bu, mostly unchanged from the USDA's previous est. made in August
Brazil 2022/23 Soy Planting 1.5% Done as of Sept. 22: Agrural
This compares with 0.1% a week earlier and 1.3% a year ago, consultancy firm AgRural says in a report.
The advance was driven by Parana state and could have been greater, had it not been for the frequent rains in that state and the lack of humidity that still prevails in other states, AgRural says
Russia Wheat Crop Seen Rising 25% Y/y on Favorable Weather: MARS
"Exceptionally high" grain production is expected in Russia in 2021-22 due to favorable weather conditions, the EU's Monitoring Agricultural Resources unit says in a note.
Wheat production seen at 95m tons, up 25% y/y
NOTE: That would be a record, based on USDA data
Barley production seen at 21.7m tons, up 18% y/y
Corn production seen at 16.4m tons, up 6% y/y
Malaysia Sept. 1-25 Palm Oil Exports to EU 215,780 Tons: SGS
Following is a table of Malaysia's palm oil export figures, according to estimates by independent cargo surveyor SGS Malaysia Sdn.
EU imported 215,780 tons; -15% m/m
China imported 206,455 tons; +93.7% m/m
India imported 166,300 tons; +1.9% m/m
China to release fourth batch of pork reserves this week to cool prices
China's state planner said on Tuesday it will release its fourth batch of pork reserves for the month this week, as average retail pork prices last week were 30% higher than a year ago.
The state sales come ahead of China's week-long National Day holiday beginning on Oct. 1, typically a period of high pork consumption.
Ukraine urges EU to help make emergency food routes permanent
Ukraine on Monday urged the European Union to support its plans to make the emergency paths for grain exports through the bloc permanent, with investment in at least five border terminals and a pipeline through which sunflower oil would flow.
Ukraine's agriculture minister Mykola Solsky told EU counterparts and the European Commission his country needed financial support to reduce its reliance on Black Sea exports that Russia had blocked and could hinder again.
Its grain and sunflower seed exports have risen from 200,000 tonnes in the month after Russia's Feb. 24 invasion to 4.5 million tonnes in August, helped by a July deal to unblock ports, but most still following overland corridors through Europe.
"We think these corridors should become stable and permanent," Solsky told a news conference after a meeting in Brussels.
He said Ukraine needed help to increase its fleet of trucks, adding a rise to 16,000 from 12,000 now could allow 10-20 million tonnes of cereals to cross land borders per year.
Ukraine, one of the world's largest grain exporters, normally supplies around 45 million tonnes of grain to the global market per year.
Five border terminals should be built, costing $25-30 million each. The cost of a sunflower oil pipeline would depend on its route.
Solsky recognised shipping was cheaper, but for crops in western Ukraine the distance to Baltic ports was no further than to the Black Sea, where Ukraine would face an "unpredictable neighbour" even after the war.
"To have an alternative route is a must, routes through friendly democratic countries in order to continue business," he said.
Agriculture commissioner Janusz Wojciechowski said he would ask the EU executive to assess ways for the bloc to finance such initiatives.
WHEAT/CEPEA: Quotations abroad are the highest since June; international valuations limit price drops in BR
Estimates pointing to record international trades and water shortage in some areas with wheat crops in Argentina and in the southern part of the Great Plains in the United States boosted wheat prices abroad in the last days. The intensification of the Russia-Ukraine war, which may hamper grains exports from the Black Sea, helped to push up quotations. According to data from the USDA, Ukraine is expected to export 11 million tons of wheat in the 2022/23 season, the lowest since the 2013/14 crop. This scenario limited devaluations in Brazil.
BRAZILIAN MARKET – Although the scenario abroad limited wheat devaluations in Brazil, the domestic quotations have been influenced by both expectations of a record output in Brazil and the arrival of the 2022/23 crop at the market, majorly in Paraná and São Paulo. In Rio Grande do Sul, farmers expect a large harvest too, based on the current favorable weather conditions
Cepea surveys show that, between September 16 and 23, the prices paid to wheat farmers (over-the-counter market) dropped by 0.42% in Paraná, 0.06% in Santa Catarina and 4.76% in Rio Grande do Sul. In the wholesale market (deals between processors), quotations decreased by 1.64% in SC, 1.66% in PR, 1.64% in São Paulo and 3.28% in RS.
Besides, the demand of Brazilian mills continues weak, due to the current low sales of wheat by-products. According to agents consulted by Cepea, most of them have reduced processing.
CROPS – With rainfall limiting the wheat harvesting in Brazil, activities did not advance much last week. In Paraná, 28% of the crop had been harvested by September 19. Of the areas not harvested yet, 79% are in good conditions; 18%, in average conditions; and 3%, in bad conditions.
In Rio Grande do Sul, according to EmaterRS, the weather has been favorable to crops development, and farmers have high expectations for the season. However, new rains are still crucial to raise soil moisture. As for the national crop, 14.3% had been harvested by early last week, according to Conab.
Indonesia to Fine Oil Palm Plantations Operating Without Permit
Indonesia plans to fine a quarter of its oil palm plantations that are not properly registered instead of imposing criminal punishment, said Coordinating Investment & Maritime Affairs Minister Luhut Panjaitan.
Fine will be imposed on 4 million hectares of oil palm plantations out of a total of 16 million hectares, he said during a visit to Indonesia Morowali Industrial Park on Monday
Panjaitan didn't provide details on the owners of the plantations or the size of the fine
Ministry has completed an audit of the palm oil industry and will report its findings to the president for further action
Govt wants plantation owners to resolve issues after paying the fine
Govt plans to develop genome technology to increase yield from oil palm trees to as much as 12 tons per hectare
Indonesia wants to use half of its palm oil output for the food sector and the other half for energy
NOTE: Palm oil plantations are often blamed for stinging smoke from illegal burning to clear land and forest
Dutch to cull around 201,000 chickens to contain bird flu
The Netherlands is to cull around 201,000 chickens on a farm in the northern city of Emmen after the detection of a highly infectious strain of bird flu, the government said on Monday.
Twelve cases of the highly lethal form of avian flu have been reported in the Netherlands this month, following dozens of cases earlier in the year.
France has also seen a resurgence in cases after experiencing its worst-ever bird flu wave earlier this year.
The spread of bird flu around the globe has raised concerns among governments and the poultry industry due to its ability to ravage flocks, generate trade restrictions and the risk of human transmission.
The risk to humans is considered low, but past outbreaks among farm birds have needed extensive culling programmes to contain them.
US Hog and Pig Inventory Survey Before USDA Report
The US hog herd as of Sept. 1 seen falling 0.8% from a year earlier to 74.25m head, according to the average in a Bloomberg Survey of seven analysts.
The USDA is scheduled to release its quarterly estimates at 3pm ET on Sept. 29
Risk Warning: Investments in Equities, Contracts for Difference (CFDs) in any instrument, Futures, Options, Derivatives and Foreign Exchange can fluctuate in value. Investors should therefore be aware that they may not realise the initial amount invested and may incur additional liabilities. These investments may be subject to above average financial risk of loss. Investors should consider their financial circumstances, investment experience and if it is appropriate to invest. If necessary, seek independent financial advice.
ADM Investor Services International Limited, registered in England No. 2547805, is authorised and regulated by the Financial Conduct Authority [FRN 148474] and is a member of the London Stock Exchange. Registered office: 3rd Floor, The Minster Building, 21 Mincing Lane, London EC3R 7AG.                  
A subsidiary of Archer Daniels Midland Company.
© 2021 ADM Investor Services International Limited.
Futures and options trading involve significant risk of loss and may not be suitable for everyone.  Therefore, carefully consider whether such trading is suitable for you in light of your financial condition.  The information and comments contained herein is provided by ADMIS and in no way should be construed to be information provided by ADM.  The author of this report did not have a financial interest in any of the contracts discussed in this report at the time the report was prepared.  The information provided is designed to assist in your analysis and evaluation of the futures and options markets.  However, any decisions you may make to buy, sell or hold a futures or options position on such research are entirely your own and not in any way deemed to be endorsed by or attributed to ADMIS. Copyright ADM Investor Services, Inc.
Latest News & Market Commentary