TOP HEADLINES
Chinese Parent Of Smithfield Readies U.S. IPO
The Chinese parent of pork giant Smithfield Foods is working with banks to take the 87-year-old business public again in the U.S.
Smithfield, the largest U.S. pork producer, could list its shares as early as next year, according to people familiar with the matter. Deliberations continue, and the timing could change, the people said.
Smithfield was acquired in 2013 by China's top meat producer, which is known today as WH Group. The $4.7 billion deal marked one of the biggest takeovers of an American business by a Chinese company at the time and resulted in the delisting of Smithfield, which used to trade on the New York Stock Exchange. The combined company became the world's largest hog farmer and pork producer and went public in Hong Kong in 2014 after raising more than $2.3 billion.
WH's shares have recently languished and are trading near a record low, giving WH a market capitalization of more than $7 billion. The company was valued at about $18 billion at its highest closing price in 2018, until hog herds in China, the world's top pork consumer, were devastated by an African swine-fever outbreak that year.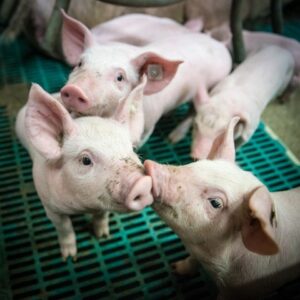 FUTURES & WEATHER
Wheat prices overnight are unchanged in SRW, down 3 in HRW, down 1 1/2 in HRS; Corn is down 1 1/2; Soybeans up 2 3/4; Soymeal up $3.60; Soyoil down 0.40.
For the week so far wheat prices are up 1/2 in SRW, down 1 1/2 in HRW, up 10 in HRS; Corn is down 2 3/4; Soybeans up 33 1/2; Soymeal up $27.40; Soyoil up 0.08.
For the month to date wheat prices are up 38 3/4 in SRW, up 3 3/4 in HRW, up 22 3/4 in HRS; Corn is up 13 3/4; Soybeans up 38 3/4; Soymeal up $36.20; Soyoil down 1.37.
Year-To-Date nearby futures are down 26.7% in SRW, down 24.8% in HRW, down 22.0% in HRS; Corn is down 27.7%; Soybeans down 13.5%; Soymeal down 12.8%; Soyoil down 14.7%.
Chinese Ag futures (JAN 24) Soybeans up 13 yuan; Soymeal down 22; Soyoil down 38; Palm oil down 4; Corn up 7 — Malaysian Palm is down 52.
Malaysian palm oil prices overnight were down 52 ringgit (-1.36%) at 3758.
There were changes in registrations (-20 Soymeal). Registration total: 3,005 SRW Wheat contracts; 735 Oats; 4 Corn; 220 Soybeans; 67 Soyoil; 355 Soymeal; 400 HRW Wheat.
Preliminary changes in futures Open Interest as of October 18 were: SRW Wheat up 4,544 contracts, HRW Wheat up 1,025, Corn up 363, Soybeans up 2,944, Soymeal down 2,245, Soyoil up 10,395.
Northern Plains: A system will continue to move through Wednesday with scattered light showers with more rain forecast for early next week. Due to recent and forecast rain, it may become more difficult to get fall fieldwork done in a timely manner in such an active pattern.
Central/Southern Plains: Heavy rain in Nebraska last week will delay field work for some time, but help to reduce drought. Southwestern areas were missed by the system, and soil moisture is drying up for wheat establishment. Frosts have occurred across a wide area over the last several days. A system will largely miss to the north this week, but better rainfall is possible next week with a system or series of systems moving through.
Midwest: While recent rainfall has reduced drought in northern areas, it has also delayed field work. Another system moves through Wednesday into Thursday, with widespread showers, though they are forecast to be lighter. A quick system will move through Saturday, providing light rainfall for some locations. A series of systems will move through next week as well, making it more difficult to complete fieldwork in some areas. Winter wheat will benefit from increased soil moisture in some areas.
Brazil: Wet season showers through the rest of this week are forecast to be pretty light in central Brazil. In contrast, a slow-moving front will bring heavier rain for southern Brazil, which has dealt with flooding and wetness issues for filling and harvest of winter wheat, as well as corn and soybean planting, though the latter issues have not been as severe as expected due to the wetness. Producers are finding a way. They'll need to find more ways through the rest of this week as heavy rain falls again and more is expected next week.
Argentina: The recent dry pattern has been unfavorable for filling winter wheat and corn planting for the last couple of months. Northern areas will see some rainfall Wednesday with a front coming through, but the main growing area in the central is not expected to see much. Forecasts for a system later this weekend into early next week are much more favorable, which are suggesting more widespread, heavier rain.
The player sheet for Oct. 18 had funds: net buyers of 2,500 contracts of SRW wheat, buyers of 3,000 corn, buyers of 4,000 soybeans, buyers of 3,500 soymeal, and sellers of 2,000 soyoil.
TENDERS
SOYBEAN SALES: The U.S. Department of Agriculture confirmed private sales of 132,000 metric tons of U.S. soybeans for delivery to China in the 2023/24 marketing year that began Sept. 1.
CORN PURCHASE: Taiwan's MFIG purchasing group bought about 65,000 metric tons of animal feed corn expected to be sourced from Brazil in an international tender on Wednesday.
FEED WHEAT PURCHASE: South Korean animal feed maker Nonghyup Feed Inc. (NOFI) purchased about 60,000 metric tons of animal feed wheat to be sourced from worldwide optional origins in an international tender on Wednesday.
PENDING TENDERS
RICE TENDER: South Korea's state-backed Agro-Fisheries & Food Trade Corp issued an international tender to purchase an estimated 50,100 metric tons of rice largely from the United States
WHEAT TENDER: Japan's Ministry of Agriculture, Forestry and Fisheries (MAFF) is seeking to buy a total of 89,873 metric tons of food-quality wheat from the United States and Canada in a regular tender that will close on Oct. 19.
WHEAT TENDER: Bangladesh's state grains buyer issued an international tender to purchase 50,000 metric tons of milling wheat.
TODAY
GRAIN EXPORT SURVEY: Corn, Soy, Wheat Sales Before USDA Report
Estimate ranges are based on a Bloomberg survey of six analysts; the USDA is scheduled to release its export sales report on Thursday for week ending Oct. 12.
Corn est. range 500k – 1,100k tons, with avg of 835k
Soybean est. range 950k – 1,625k tons, with avg of 1,385k
China's Sinograin Denies Reports Of Halting Corn Purchase
SAYS MEDIA REPORTS OF CO HALTING CORN PURCHASE UNTRUE
Brazil grain exporters re-route some cargos as drought drains Amazonian rivers
Severe drought in the Amazon is forcing Brazilian grain exporters to divert a small number of export cargos to southern port terminals instead of northern ports, grain exporters group Anec said on Wednesday.
Northern routes, which have been disrupted by difficulties navigating shallow Amazonian rivers this spring, have been instrumental to helping the country boost corn and soybeans exports over the past few years.
Brazil is the world's biggest soybean exporter and expected to overtake the U.S. this year as top corn exporter. China is Brazil's biggest export market for both crops.
Anec, which represents grain traders including ADM, Bunge, Cargill and Cofco, declined to elaborate on which companies are diverting cargo and the volumes involved. Anec's director-general Sergio Mendes noted the volumes are insignificant and he does not see a widespread trend.
The drought, which has limited volumes of grain transported on barges via northern ports in recent days, will not impact Brazilian overall grain exports this year, Anec said.
"This is a mere change (of port)," Mendes said, adding that shipments can divert south to Santos, Latin America's biggest port.
The port of Santos is serviced by a reliable railway that connects it with the heart of Brazil's farm country, the state of Mato Grosso.
Anec is maintaining projections for record 2023 Brazilian soy exports at 99 million metric tons, and record corn exports between 52 million and 53 million tons, Mendes said.
Anec cut this week Brazil's soybean and corn export forecasts for October, however, by around 900,000 tons from a week ago.
Brazil has shipped most of its soy and is the final months of the corn-exporting season.
From January to August, 44% of Brazil's corn exports went through four main northern ports including Barcarena, Itaqui, Itacoatiara and Santarem, according to crop agency Conab, while some 31% of corn shipments from Brazil left through Santos.
India's 2022-23 Food Grain Production Rises 4.3% to Record
Food grain production in India rose to a record 329.7 million tons in 2022-23, from 315.6 million tons in the previous year, as per the final estimates released by the agriculture farm ministry.
NOTE: Govt earlier estimated 2022-23 food grain output at 330.5m tons
Rice output rose to record 135.75m tons from 129.5m tons
Wheat output seen 110.5m tons in 2022-23, up from 107.7m tons a year earlier
Sugarcane production estimated at at 490.5m tons, compared with 439.4m tons
Cotton production at 33.7m bales of 170kg each, increased by 2.5m bales
Production of oilseeds rose to record 41.3m tons, up by 3.4m tons from the year before
Brazil unveils plan to subsidize wheat trades
The Brazilian government has allocated 400 million reais ($79 million) to subsidize wheat trades from the 2023/2024 crop year in a bid to shore up prices, according to a statement on Wednesday.
"History shows that when you launch (such a program), the market heats up," Agriculture Minister Carlos Favaro said in the statement as he sought to highlight the importance of boosting Brazil's wheat marketplace.
The government set 87.77 reais ($17.36) per 60-kg bag as the minimum price for "type 1 loaf wheat" in the program, which is about 44% above current domestic prices.
The plan is to guarantee trades at such a price level using an auction mechanism in which growers, wheat millers and traders can participate, the government said.
For StoneX's wheat risk manager, Jonathan Pinheiro, the money allocated in the program could potentially spur commercialization of about 1 million tons of wheat.
The government has used subsidy programs before to ensure farmers receive a minimum income from their corn and wheat harvests when prices are low. But experts say such an initiative, used the last time in 2017 to bolster wheat trades, can also make the local product more competitive in global markets, which could draw criticism from rival exporters.
In a written statement, Rubens Barbosa, president of Brazilian wheat millers lobby Abitrigo, said the government aims to support increasing wheat production by guaranteeing minimum prices for growers.
"It will still be implemented. There will be no immediate impact on the market," Barbosa said.
One southern farm cooperative welcomed subsidies, as they could benefit Brazilian wheat exporters and provide much needed market liquidity, especially for good quality wheat.
According to crop agency Conab, Brazil will produce some 10.4 million tons of wheat in the 2023/24 cycle. Although Brazil's wheat area and output have been growing, the country still relies on imports for part of its domestic needs.
Through August, Brazil imported 1.6 million metric tons from Argentina, a traditional supplier. It also imported almost 500,000 tons from Russia, Abitrigo data shows.
China moves closer to commercial planting of GMO corn, soybeans
China has approved 37 genetically modified corn seed varieties and 14 GMO soybean varieties, taking it close to commercial planting of GMO corn and soybeans.
The varieties approved by the Ministry of Agriculture and Rural Affairs in a notice on Tuesday include corn varieties owned by Yuan Longping High-tech Agriculture Co, Syngenta and Dabeinong.
China is the world's top buyer of soybeans and corn, importing more than 100 million metric tons of the grains a year to feed its huge livestock herd.
Allowing its farmers to grow GMO varieties that significantly increase yields could reduce future grain imports.
"The penetration rate of genetically modified corn seeds is expected to reach a peak of 90% in the next five years or so," said analysts at Tianfeng Agriculture in a note on Thursday.
Beijing has long had a cautious approach to the technology but has been steadily moving to open up the market in recent years, approving the safety of 14 corn "events", or genetic changes, since 2019 and several soybean events.
Large-scale trials of GMO soy and corn were carried out in 20 counties in five provinces this year, which the agriculture ministry said showed "outstanding" results.
The list of approved varieties is open for public comment until Nov. 15, according to the ministry notice.
But Beijing is still expected to control the area to be planted with the new varieties.
"After the above varieties are approved according to the procedures, the actual planting area should also comply with the relevant arrangements for the national biological breeding industrialization," said the notice.
Still, it is not clear that commercial sales will be fully open next year, said an executive at a seed developer.
"The technical barrier is gone, however the administrative decision is not yet made," he said, declining to be named as he is not permitted to speak to media.
Ammonia Affordable as US Fertilizer Season to Begin
The global nitrogen market was unsettled in advance of another tender from India and rising European natural gas prices. The US fall fertilizer season is set to kick off as harvest nears completion and soil temperatures drop. Ammonia affordability, a key metric for autumn use, is average despite an October surge in prices.
Urea Declines, Other Nitrogens Strengthen
Fertilizer prices in the western US and Canada were mirroring recent movements in the New Orleans (NOLA) and Midwest markets, with urea falling and ammonia, urea ammonium nitrate (UAN), ammonium sulfate and phosphates strengthening. Ammonia in the Pacific Northwest was up $75-$80 a short ton (st) from late September, UAN prices rose $20/st in California and the Pacific Northwest, while urea prices in California were down $15-$50/st, depending on location. Ammonium sulfate and monoammonium phosphate (MAP) in western Canada showed increases of roughly C$15 a metric ton (mt) from last month, while NOLA phosphate and potash were flat from last week amid minimal new business.
Brazil Urea Prices Slip Ahead of India Tender Results
Urea prices declined in Brazil as the industry awaits the results of India's latest tender, which closes Oct. 20. Potash pricing was flat on robust supplies, while phosphates strengthened amid limited availability.
Brazil Urea Prices Decline, MAP Moves Higher
Urea prices in Brazil declined ahead of the latest Indian tender results, falling to $395-$400 a metric ton (mt) cost-and-freight from last week's $410-$420. Bid where reported at $385-$390/mt, but no trades of non-sanctioned urea were confirmed at this level. Ammonium sulfate remained at $215-$220/mt as the sourcing of raw materials for granulators in China becomes more complex. Monoammonium phosphate (MAP) in Brazil increased to $550-$560/mt from last week's flat $550 based on limited new transactions to cover delays in OCP shipments. Potash remained at last week's $330-$350/mt, with no new transactions reported as sellers offer formula deals to stimulate liquidity.
Interested in more futures markets?  Explore our Market Dashboards here.
Risk Warning: Investments in Equities, Contracts for Difference (CFDs) in any instrument, Futures, Options, Derivatives and Foreign Exchange can fluctuate in value. Investors should therefore be aware that they may not realise the initial amount invested and may incur additional liabilities. These investments may be subject to above average financial risk of loss. Investors should consider their financial circumstances, investment experience and if it is appropriate to invest. If necessary, seek independent financial advice.
ADM Investor Services International Limited, registered in England No. 2547805, is authorised and regulated by the Financial Conduct Authority [FRN 148474] and is a member of the London Stock Exchange. Registered office: 3rd Floor, The Minster Building, 21 Mincing Lane, London EC3R 7AG.                  
A subsidiary of Archer Daniels Midland Company.
© 2021 ADM Investor Services International Limited.
Futures and options trading involve significant risk of loss and may not be suitable for everyone.  Therefore, carefully consider whether such trading is suitable for you in light of your financial condition.  The information and comments contained herein is provided by ADMIS and in no way should be construed to be information provided by ADM.  The author of this report did not have a financial interest in any of the contracts discussed in this report at the time the report was prepared.  The information provided is designed to assist in your analysis and evaluation of the futures and options markets.  However, any decisions you may make to buy, sell or hold a futures or options position on such research are entirely your own and not in any way deemed to be endorsed by or attributed to ADMIS. Copyright ADM Investor Services, Inc.
Latest News & Market Commentary