TODAY—-  EIA WEEKLY ENERGY REPORT
Wheat prices overnight are up 5 in SRW, up 7 in HRW, up 10 3/4 in HRS; Corn is up 6 3/4; Soybeans up 17 1/4; Soymeal up $0.17; Soyoil up 1.18.
For the week so far wheat prices are up 28 1/4 in SRW, up 26 3/4 in HRW, up 66 1/4 in HRS; Corn is up 24 1/2; Soybeans up 57; Soymeal unchanged; Soyoil up 4.99. For the month to date wheat prices are up 29 in SRW, up 27 1/2 in HRW, up 66 1/4 in HRS; Corn is up 25; Soybeans up 58 1/4; Soymeal up $0.20; Soyoil up 5.04.
Chinese Ag futures (SEP 21) Soybeans up 51 yuan ; Soymeal down 2; Soyoil up 298; Palm oil up 348; Corn up 21 — Malasyian Palm is up 74.
Malaysian palm oil prices overnight were up 74 ringgit (+1.81%) at 4166 with a weather-driven rally in Chicago soybean oil and signs of higher imports by second-biggest buyer China boosting sentiment.
Midwest corn, soybean and winter wheat forecasts: West: Isolated showers Wednesday. Mostly dry Thursday-Saturday. Isolated showers Sunday. Temperatures above normal north and near to below normal south Wednesday, near to above normal Thursday, above to well above normal Friday-Sunday. East: Scattered showers south and east Wednesday-Thursday. Mostly dry Friday-Sunday. Temperatures above normal north and near to below normal south Wednesday, near to above normal Thursday-Friday, above to well above normal Saturday-Sunday. 6 to 10 day outlook: Scattered showers Monday-Friday. Temperatures above to well above normal Monday-Friday.
The player sheet had funds net sellers of 4,000 contracts of SRW Wheat; sellers of 17,500 corn, buyers of 8,000 soybeans, sellers of 5,000 Soymeal, and; net buyers of 10,000 lots of Soyoil.
Preliminary changes in futures Open Interest as of June 2 were: SRW Wheat down 314 contracts, HRW Wheat down 446, Corn down 2,265, Soybeans down 786, Soymeal down 2,343, Soyoil down 747.
There were no changes in registrations. Registration total: 20 SRW Wheat contracts; 16 Oats; 0 Corn; 13 Soybeans; 968 Soyoil; 442 Soymeal; 1,249 HRW Wheat.
TENDER
FEED WHEAT SALE: Japan will import 4,400 tonnes of feed-quality wheat for livestock use through a simultaneous buy and sell (SBS) auction that closed late on Wednesday, the Ministry of Agriculture, Forestry and Fisheries (MAFF) said. The ministry had sought 80,000 tonnes of feed wheat and 100,000 tonnes of feed barley to be loaded by Sept. 30 and arrive in Japan by Nov. 25.
PENDING TENDERS
FEED WHEAT TENDER: Indonesia's state procurement agency Bulog issued an international tender to buy and import about 180,000 tonnes of animal feed wheat.
WHEAT TENDER: Bangladesh's state grains buyer issued an international tender to purchase 50,000 tonnes of milling wheat.
FEED WHEAT TENDER: Indonesia's state procurement agency Bulog has issued an international tender to buy and import about 240,000 tonnes of animal feed wheat.
MILLING WHEAT TENDER: Iranian state agency the Government Trading Corp (GTC) has issued an international tender to purchase about 60,000 tonnes of milling wheat.in the tender is June 2. (Full Story)
SOYOIL, SUNOIL TENDERS: Iran's state purchasing agency GTC has issued international tenders for the purchase of 30,000 tonnes of soyoil and 30,000 tonnes of sunflower oiL.
 ETHANOL: U.S. Weekly Production Survey Before EIA Report
Output and stockpile projections for the week ending May 28 are based on nine analyst estimates compiled by Bloomberg.
Production seen higher than last week at 1.022m b/d
Stockpile avg est. 18.951m bbl vs 18.98m a week ago
China Slows Soy Imports on Poor Margins But Boosts Palm Buying
China, the world's biggest buyer of soybeans, has slowed purchases of the oilseed due to negative crush margins, the China National Grain and Oils Information Center said in a report on Thursday.
The nation has not purchased soybeans from the U.S. in the past 2 months; imports from Brazil have also slowed down
Crushing margins stayed negative, though they gained on the week
Soybean imports seen at ~10m tons in June and ~9m tons in July
Weekly crush rose to 2.07m tons last week from 150k tons a week earlier; this week's crush seen at more than 2.1m tons
The world's second-biggest palm oil importer has increased purchases after falling domestic inventories pushed up prices and improved importers' profit margins

Companies have ordered 18-22 cargoes over the past two weeks for loading from June to November
Domestic palm oil stockpiles have fallen to 330k tons, -50k tons m/m
China's palm oil imports in May estimated at ~600k tons; that compares with 463k tons in April: customs data
JBS Plants Limp Back From Hack With Old-School Manual Labor
JBS SA workers returning to a meat-processing plant in Texas on Wednesday afternoon were told to be ready to do things a bit differently than normal: Work by hand. With everything from knife sharpening to production-line speed controls relying on automation, coming back from a cyberattack that forced the world's largest meat producer to halt operations across the globe is set to be a bumpy ride. Because the plants are coming back online without some of their systems in service, there will be a lot more manual work than usual.
Heavy Rain in Black Sea Area Poses Sunseed Crop Risk: Trans-Oil
Sunflower crops in the Black Sea region, which were curbed by drought last year, face some risk this season due to recent heavy rains and cool temperatures, Vaja Jhashi, head of Moldova-based oilseed crusher Trans-Oil Group, said Wednesday in an interview.
Brazil's Worsening Drought Threatens Wave of Farmer Defaults
The drought in Brazil is so severe that some farmers are reneging on their sales contracts, a sign that the turmoil seen in agricultural markets this year isn't over.
Lawsuits and contract renegotiations are occurring between growers who have suffered massive production shortfalls and the trading firms that buy the crops and ship them around the world.
Such moves could result in delays and losses for buyers at a time when supplies are already strained and food inflation is a growing fear. That's no small thing as Brazil's crops are used in everything from Starbucks coffee to Coca-Cola. It's the No. 1 shipper for sugar, soybeans and high-end arabica coffee beans. It ranks No. 2 behind the U.S. for corn.
Brazilian farmers are losing their crops to dry weather, and while that's led to a impressive rally, sales contracts for their products were made earlier at far cheaper rates. During Brazil's soybean harvest in February, some growers refused to honor sales agreements, and trading firms sued. With harvests for coffee and corn coming up in a matter of weeks, there are fears more of the same could be ahead, with some producers signaling they'll break contracts.
Brazil's Datagro Raises Soybean Crop Estimate, Cuts Corn Forecast
Brazilian farmers grew a record 137M metric tons of soybeans in the 2020-2021 season, agricultural consultancy Datagro says, raising the number from the 136.3M tons the group estimated in April. The consultancy reduced its forecast for the country's total corn crop to 101.7M tons, down from its April forecast of 105.5M tons. Brazil produced a record 106.8M tons of corn in the 2019-2020 season.
U Soft-Wheat Exports at 24.5m Tons in Season Through May 30
Shipments during the season that began July 1 amounted to 24.5m tons as of May 30, versus 32.7m tons in the same period a year earlier, the European Commission said on its website.
Top destinations are Algeria (5.47m tons), Morocco (2.25m tons) and Nigeria (2.16m tons)
EU barley exports totaled 7.01m tons, similar to the prior year
EU corn imports totaled 13.3m tons, versus 18.7m tons a year earlier
Figures for the entire prior year include U.K. trade
Crop Sowing to Gather Pace as Monsoon Hits Southern Indian Coast
The southwest monsoon, which waters more than half of India's farmland, reached the mainland two days later than usual, with the sowing of major crops such as rice and soybeans seen gathering momentum in the coming weeks.
The monsoon hit the southern coast on Thursday, Mrutyunjay Mohapatra, director general of the India Meteorological Department, told Bloomberg by phone. It will further advance to some more parts of Kerala and Tamil Nadu states in the next two days, he said. The monsoon typically arrives in Kerala on June 1.
The June-September rainy season is critical for India's crop output and economic growth at a time when the country is battling the world's worst outbreak of Covid-19. The virus has spread to rural areas, where about 70% of the nation's more than 1.3 billion people live. Agriculture accounts for 18% of its economy.
Brazil's worst drought in almost a century to impact river navigation – minister
Brazil's worst water crisis in almost a century will impact river navigation and make transportation of goods more expensive in the world's largest exporter of commodities ranging from soybeans to coffee and sugar.
On Wednesday, Infrastructure Minister Tarcisio de Freitas said measures to save water and direct it to power generation would inevitably disrupt navigation on the Tiete-Parana waterway, which is suffering the most from a prolonged drought in the heart of Brazil's farm country.
Freitas said the government will reduce the draft of ships on the Parana river basin, disrupting cargo movements to and from farm states like Goias, Minas Gerais, Sao Paulo, Parana and Mato Grosso do Sul. That basin forms part of Brazil's fourth-largest waterway for cargo transport.
Global Food Prices Surge to Highest in Almost a Decade, UN Says
A United Nations gauge of world food costs climbed for a 12th straight month in May, its longest stretch in a decade. Higher food costs can accelerate broader inflation, complicating central banks efforts to provide more stimulus.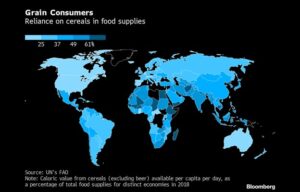 Drought in key Brazilian growing regions is crippling crops from corn to coffee, and vegetable oil production growth has slowed in Southeast Asia. That's boosting costs for livestock producers and risks further straining global grain stockpiles that have been depleted by soaring Chinese demand.
The prolonged gains across the staple commodities are trickling through to store shelves, with countries from Kenya to Mexico reporting higher food costs. The pain could be particularly pronounced in some of the poorest import-dependent nations, which have limited purchasing power and social safety nets as they grapple with the pandemic.
The UN's index is treading at its highest since September 2011, with last month's gain of 4.8% being the biggest in more than 10 years.
The surge has also stirred memories of 2008 and 2011, when price spikes led to food riots in more than 30 nations. The world's hunger problem has already reached its worst in years as the pandemic exacerbates food inequalities, compounding extreme weather and political conflicts.
India Advances 20% Ethanol-Blending Target by Two Years to 2023
The federal govt has asked all fuel retailers in India to sell gasoline blended with 20% ethanol across the country from April 1, 2023, according to an official notification.
NOTE: In March, Prime Minister Narendra Modi had announced to advance the target by 5 years to 2025
Ethanol blending with gasoline was 8.2% in April, according to oil ministry's Petroleum Planning & Analysis Cell
It will rise to about 9% in the current year, Oil Minister Dharmendra Pradhan said on June 1
Argentine meat sales strike to end Wednesday, but could resume to include grains – farm groups
Argentine cattle ranchers will end their meat sales ban at midnight on Wednesday, but the protest over the government's suspension of beef exports could resume to include a grains sales strike, the leader of a top farm group said. Argentina is the world's No. 5 meat exporter, with most of its shipments destined for China. In a move to help control inflation, expected at about 50% this year, the government imposed a 30-day ban on meat exports.
Farm Irrigation Gets Funding Boost Under Saskatchewan Program
Farmers in one of Canada's key agricultural Prairie provinces can now receive up to C$500,000 ($415,282) to finance irrigation infrastructure, Saskatchewan government said in a release Wednesday.
Russia introducing floating grain export duties as of June 2 – Central Asia General Newswire
Russia is introducing a grain damper mechanism as of June 2 which envisages floating duties for wheat, corn, and barley exports and putting funds received from them into subsidies for agricultural producers.
According to the Agriculture Ministry's calculations, as of June 2, the export duties will be $28.1 per tonne for wheat, $52.2 per tonne for corn, and $39.6 per tonne for barley. These are calculated based on indicative prices for wheat of $240.2 per tonne, for barley of $241.7 per tonne, and for corn of $259.7 per tonne.
The duties will apply until June 8 inclusive and will be updated as of June 9. The size of the duties will be calculated weekly based on price indicators according prices under export contracts registered on the Moscow Exchange. The cut-off price will be $200 per tonne for wheat and $185 per tonne for barley and corn, and the duty will be 70% of the amount over these figures.
Meat Prices 'Certainly' Affected by JBS Hack, Rep. Cuellar Says
"Certainly this is going to have an impact on the prices of meat," Rep. Henry Cuellar, co-chair of the Congressional Beef Caucus, tells Bloomberg Radio in an interview about the cyberattack on Brazilian food giant JBS.
The good news is the disruption that forced JBS to shut down U.S. beef plants "has been taken care of," the Texas Democrat said
USDA has contacted other big meat processors and "encouraged them to keep the supplies moving and slaughter additional livestock when possible"
Congress needs to address cybersecurity threats in part by crafting a "comprehensive" national strategy and provide adequate oversight
The infrastructure plan being negotiated by President Biden and lawmakers "absolutely" needs to include provisions to strengthen U.S. cybersecurity, said Cuellar, a member of the House Appropriations Cmte
Cuellar stressed that more workers are needed in the cybersecurity field
Indonesia's Jan-April biodiesel consumption falls 8.2% y/y- Association
Indonesia's consumption of biodiesel fell 8.2% in the first four months of 2021 compared to the same period last year, data from the country's producers' association showed, as transportation demand remained muted due to the coronavirus pandemic.
India considers edible oil import tax cut to lower prices
India is considering reducing import taxes on edible oils after cooking oil prices hit record highs last month, two government and two industry officials told Reuters, to reduce food costs in the world's biggest vegetable oil importer. While no decision has been made, the tax reduction could lower local prices and boost consumption, giving support to Malaysian palm oil FCPOc3, along with soy and sunflower oil prices, and dampening prices of local oilseeds such as rapeseed, soybean and groundnut. "A proposal to lower the import duty on edible oils is under review," a government official with knowledge of the matter who asked to remain unidentified said on Wednesday.
Monsoon rains arrive on Kerala coast in southwest India – weather office
India's annual monsoon arrived on the Kerala coast on Thursday, the state-run weather office said, marking the start of the four-month rainy season crucial for the farm-dependent economy. Rains usually lash Kerala state, on India's southwest coast, from around June 1 and cover the whole country by mid-July. Timely rains trigger the planting of crops such as rice, soybeans and cotton.
HEAVY BRAZIL RAINS ARRIVING THIS WEEKEND WILL NOT MOVE THE NEEDLE ON CORN CONDITIONS – Refinitiv Commodities Research
ARGENTINA OUTLOOK: Increasingly warm weather will overspread Argentina during the 10-day outlook. Temperatures will be near normal through 5 days before warming 2-4 °C above normal during the 6-10 day outlook in a pattern of widespread warmth. 10-day rainfall totals will be divided regionally, but most of the Pampas will receive deficits up to 15 mm (~0.6 in) as dryness prevails there. Warmth/dryness through 10 days in most areas of Argentina will be favorable for early wheat plantings.
BRAZIL OUTLOOK: Widespread warmth will dominate acro
ss Brazil during the 10-day outlook despite high rainfall that is likely to develop over the weekend. Temperatures will be 2-5 °C above normal in a widespread pattern over Brazil through 10 days, with the warmest conditions occurring this week. Rainfall totals through 5 days will be up to 25 mm (~1 in) below normal once again in most regions, with the driest conditions focused around Parana. However, the 6-10 day outlook will bring high rainfall to those same areas, with surpluses up to 125 mm (~5 in) relative to normal. Even if such rains verify as anticipated beginning this weekend, any benefits to 2nd crop corn would be minimal at the end of the grain fill period.
Risk Warning: Investments in Equities, Contracts for Difference (CFDs) in any instrument, Futures, Options, Derivatives and Foreign Exchange can fluctuate in value. Investors should therefore be aware that they may not realise the initial amount invested and may incur additional liabilities. These investments may be subject to above average financial risk of loss. Investors should consider their financial circumstances, investment experience and if it is appropriate to invest. If necessary, seek independent financial advice.
ADM Investor Services International Limited, registered in England No. 2547805, is authorised and regulated by the Financial Conduct Authority [FRN 148474] and is a member of the London Stock Exchange. Registered office: 3rd Floor, The Minster Building, 21 Mincing Lane, London EC3R 7AG.                  
A subsidiary of Archer Daniels Midland Company.
© 2021 ADM Investor Services International Limited.
Futures and options trading involve significant risk of loss and may not be suitable for everyone.  Therefore, carefully consider whether such trading is suitable for you in light of your financial condition.  The information and comments contained herein is provided by ADMIS and in no way should be construed to be information provided by ADM.  The author of this report did not have a financial interest in any of the contracts discussed in this report at the time the report was prepared.  The information provided is designed to assist in your analysis and evaluation of the futures and options markets.  However, any decisions you may make to buy, sell or hold a futures or options position on such research are entirely your own and not in any way deemed to be endorsed by or attributed to ADMIS. Copyright ADM Investor Services, Inc.
Latest News & Market Commentary